Over the years, Vietnam is one of the leading coffee producing and exporting countries in the world. Before the pandemic and throughout the crisis period, many Vietnamese coffee enterprises have made efforts to diversify export markets, improve quality, exploit the potential of specialty coffee, and at the same time promote other channels. online marketing and distribution.
According to Dr. Abel Alonso, senior lecturer in international business at RMIT University, "responding to the current crisis with value-added efforts and activities is an important task for the coffee industry. Besides coffee culture, many tourism and resort activities in Vietnam will gradually focus on coffee as a central product, especially in the post-COVID period.Stakeholders in this industry should focus more on growth. value and improve understanding of Vietnamese specialty coffee, similar to successful lessons from other countries such as Peru".
To analyze this topic in depth, RMIT University invited representatives of industry associations and businesses, including Les Vergers du Mekong, La Viet Coffee, Lofita Coffee & Tea, to attend the International Business Forum. 2021. The speakers gave multi-dimensional perspectives on internationalization, product-service diversification, sustainable development, marketing and governance.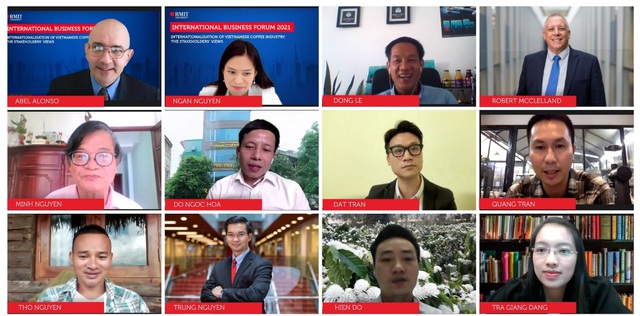 Speakers at the 2021 International Business Forum hosted by RMIT University.
Sharing experiences from Les Vergers du Mekong, General Director Le Van Dong said understanding the market, minimizing negative impacts on the environment and applying technology are the factors for the sustainable success of the business throughout the two years. past decade.
"We strictly manage the supply chain. For example, we have designed a traceability app and regularly train and support farmers to ensure quality according to international standards. We also use Using environmentally friendly packaging and piloting organic farming, these create a competitive advantage and help us have a high consumption volume," said Mr. Dong.
Mr. Tran Nhat Quang, founder and director of La Viet Coffee Company in Da Lat, emphasized the potential of "local export".
"We have a 2-hour factory tour and roasting/brewing experience, and a day-long thematic coffee tour that focuses on an in-depth experience for international tourists interested in agriculture. This tourism model was very successful in the pre-COVID-19 period and we will continue to exploit it in the future when tourism reopens," said Mr. Quang.
According to Dr. Nguyen Van Minh, Vice Chairman of the Vietnam Association of Farms and Agribusinesses, the coffee industry has been and will continue to be an important sector on the international business map of Vietnam.
"Vietnam is moving towards a smart, organic, value-added agriculture, and the coffee industry is also in this trend. Vietnam can gradually increase the value of coffee through innovation. innovation, bringing science and technology into creating new products and attracting reputable investors," he said.
The International Business Forum organized by RMIT University every year since 2017 aims to connect leading experts, policy makers, as well as domestic and foreign scholars to discuss key topics. in international business in Vietnam. This year's forum, initiated from the initiative of Associate Professor Nguyen Quang Trung, chaired by Dr. Abel Alonso. This annual event promotes the exchange of knowledge, good experiences, and good lessons from domestic enterprises, multinational corporations and key actors in international business activities in Vietnam. Learn more: https://bit.ly/rmit-ibforum21.