Pizza 4P's is a pizza brand founded in Vietnam, by the Japanese couple Yosuke Masuko – Sanae Tagatsuki. From a restaurant in a small alley on Le Thanh Ton street, this brand is now present in Hanoi, Ho Chi Minh City, Da Nang, Nha Trang, Hai Phong with a total of 24 branches.
This is also one of the successful startups in the harsh F&B industry. In May 2019, Pizza 4P's completed receiving investment capital from Mekong Capital's fund. Previously, this restaurant chain also successfully raised capital from Seedcom, Chikaranomoto (who owns the Ippudo ramen restaurant chain in Japan) and Locotto.
According to VIRAC data, Pizza 4P's revenue in 2017 reached more than 283 billion VND, up 79% over the previous year and in 2018 increased by 45% to 411 billion VND. In terms of profit, Pizza 4P's profit was 33.3 billion dong in 2017, more than 6 times higher than 5.5 billion dong in 2016. In 2018, profit increased by about 65%.
Although appearing quite late in Vietnam compared to big brands like Pizza Hut, Domino's Pizza, Pizza 4P's quickly won the hearts of Vietnamese people. These branded pizzas have even become a must-try for gourmets. Even during the holiday season, Pizza 4P's frozen pizzas or pastas are also hunted throughout the online market, and many people even gather to sell at a higher price.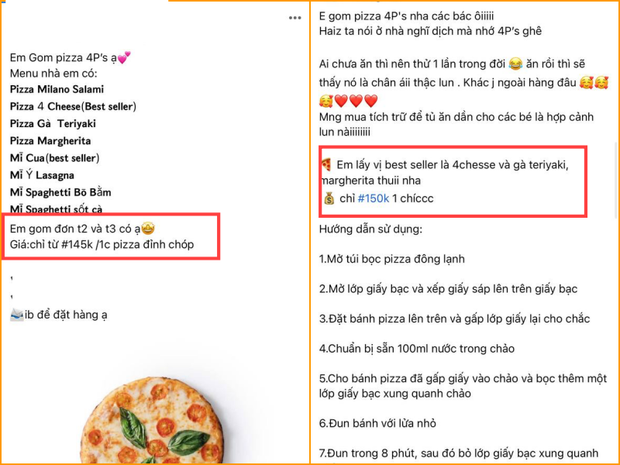 Pizza 4P's frozen products are sought after on the online market.
So why are pizzas originating from Italy, created by the Japanese, so popular with Vietnamese people?
Branding with customer satisfaction
"Location, location and location" is often considered as a manifesto in the F&B industry, to emphasize the importance and decisiveness of this factor to the success of an F&B restaurant. However, a convenient location may attract first-time visitors, but it is quality that makes them come back again and again. This is probably true of Pizza 4P's.
Instead of constantly launching promotions and discount combos like many competitors in the same industry, Pizza 4P's only focuses on communicating consistent messages such as: farm-to-table process, homemade cheese, Natural crab farm, organic vegetables, good for health.
And according to the founder, to ensure the quality of ingredients as well as bring the freshest taste, they develop their own cheese factory, cooperate with farmers in Da Lat to actively source organic vegetables. and raise their own cows for milk – the main raw material for cheese production. Fresh cheese and vegetables from suppliers are gathered at the cheese factory, transported overnight to Pizza 4P's kitchens in HCMC, Hanoi and Da Nang for use the next day. Only serve the freshest, if you can't buy it, make it yourself.
In an interview with VTV4, the founder and wife of Yosuke Masuko – Sanae Tagatsuki said that they also keep the inherent carefulness and meticulousness inherent in Japanese business. For example, for pizza recipes, Pizza 4P's restaurant has its own rules about using toppings for each type of cake, from how to cut the cake for 6 or 8 people to eat, how to put cheese on the cake, to The topping is evenly distributed among each piece.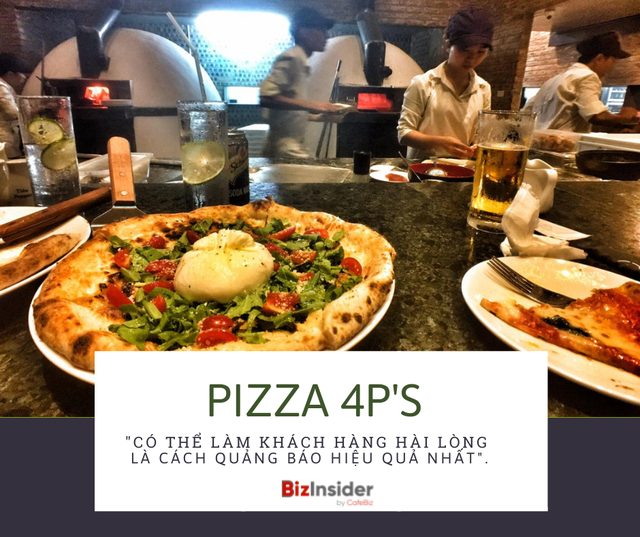 In addition to the product, the service is also the factor that brings the reputation of Pizza 4P's. Before Covid-19 hit, this brand completely said no to online sales, but only in-store. Clean, beautiful, elegant space, friendly and professional service attitude, being able to witness the pizza making process firsthand are the plus points that make this brand always confident with the "principle" of serving only on the spot. . It is known that each waitress must be trained 2-3 months and it takes 3-6 months to train a kitchen staff and pizza staff.
Besides, Pizza 4P's employees always try to get customer feedback, about 20,000 reviews/month to promptly improve product and service quality.
Founder Masuko himself also affirmed that the company does not focus on advertising but focuses on the quality of the cake. "Being able to make customers happy is the most effective way of advertising", he confirmed.
Being "backed" by a "reputable" technology team
Behind the success of Pizza 4P's is not only the quality of products and services but also the "back" of the "cultivator's" technology team.
In the past, the job of the IT team at Pizza 4P's was simply to perform tasks such as making sure the camera systems, vending equipment or wifi,… operated normally.
However, the arrival of Covid-19 forced Pizza 4P's to find new sources of revenue in the context of restaurants having to close because of the social distancing order. This brand has abandoned the "principle" of serving only at the restaurant for the past 9 years to deploy an online sales channel, home delivery. However, instead of switching to apps like Grab, Gojek or Now, Pizza 4P's built a sales channel through its own website and even developed a battery in a thermos to keep the food in perfect condition. Best. In this way, Pizza 4P's is fully proactive in delivery as well as in receiving feedback, through touch points and operational improvements.
Not only receiving orders and delivering goods, but all other processes at Pizza 4P's 24 stores are managed by a 100% "homemade" technology system, from electronic invoices to building customer response processes. feedback with customers and partners, employees.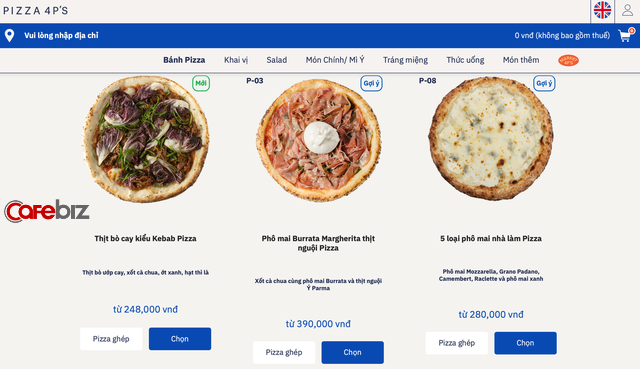 Ordering website interface built by Pizza 4P's team
In the leadership team of Pizza 4P's, there is a position of Chief Innovation Officer, which is held by Kelly Tran. She graduated with bachelor's and master's degrees in Computer Science in the US, visiting Harvard and spent many years working in the technology field, establishing herself as well as working for large companies abroad.
Once in an interview with Vietcetera, Kelly Tran shared:We have to coordinate with everyone, from the sales staff, to the electronic invoicing staff, etc. We don't have a whole week to do those things, we have to monitor every hour. The rate of improvement is about 12 hours. When we launch a product, we build feedback loops with not only customers but also partners and employees. We did this for months on end, until the pace of improvement dropped to just 1-2 weeks."
Kelly Tran also excitedly revealed that if Tiki took 24 days to migrate the system to Google Clouds, Pizza 4P's only needed 7 days. Pizza 4P's website is even in the top 10 of e-commerce in Vietnam, next to big names like Tiki, Lazada, Shopee, Mobile World, etc.
Sharing about future goals, Kelly Tran said:Our vision is to become a leading company in Vietnam, focusing on customers. There are really not many customer-first companies in Vietnam. In 2021, we will apply AI to all upline products because F&B is a Big data industry. We will also use the "internet of things" to automate as many things as possible. That's the only way we can scale to 1,000 restaurants."
Flexible sales method
For a long time, Pizza 4P's has launched a separate food sales channel called Box 4P's. In addition to restaurant use, Pizza 4P's also sells its cheese to Horeca (restaurants, hotels…), some mini supermarket chains and on Box 4P's.
Besides, as mentioned above, the way Pizza 4P's sells has changed quite a bit since the Covid-19 pandemic started. During the first outbreak, thanks to the take-out channel, Pizza 4P's recorded a revenue of VND 30 billion, delivered more than 60,000 orders and grew monthly.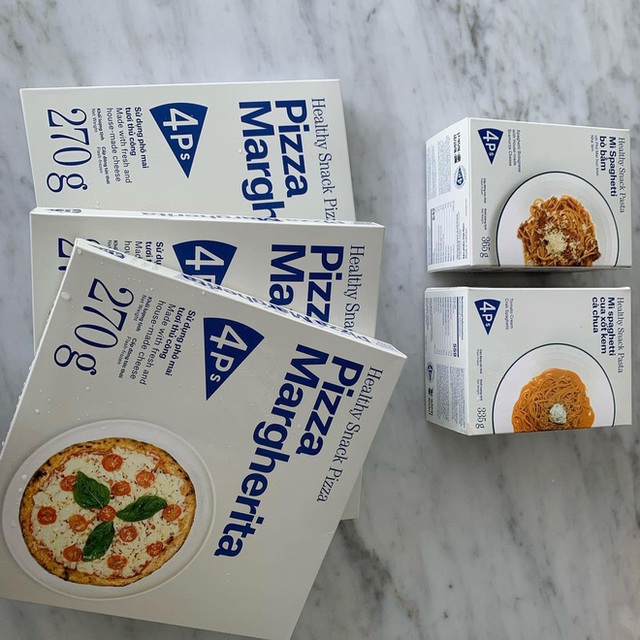 Pizza 4P's frozen products
At the end of July 2021, in the context of a serious new Covid-19 wave, Pizza 4P's opened more genuine stores on Shopee and Lazada. This continues to be a move that shows that this brand is also trying to find ways to "save" revenue while the entire F&B industry is "hibernation". In just a short time, the frozen pizzas provided by Pizza 4P's have caused a fever, recording sales of 200-300 pieces of each type, not to mention a series of products that are collected and sold on the online market. However, due to the tight distancing policy, Pizza 4P's products on e-commerce platforms are currently limited, only providing fresh Burrata cheese.
In addition, Pizza 4P's also cooperates with many retail chains such as Farmi.vn, Annam Gourmet, FamilyMart Vietnam, Tops Market, Genshai, etc. to distribute its frozen products more widely, thereby diversifying its revenue sources. collect.
By Business and Marketing